Sharon Tatem Fine Artist Biograph
HIGHLIGHTS OF SHARON TATEM'S FINE ART CAREER
Invitation to speak at MCAA on Fashion and Art and Murals
Palm Beach Fashion Show Autust 2017-
Article and Pictures in the Atlantic Aveneu Magazine, Oct Editon
Dada Delray Beach Fashion Event 2016 August
Invitation to speak at Career Day Citrus Grove Elementary School on Life of a Career Artist
November 2015 Sharon Tatem Launched the Sharon Tatem Silk Scarf Collection at Palm Beach Swim Week Fusion Fashion and Art Fashion Productions.
Visit www.sharontatem.com to view the silk scarf collection.
Media and Press for the Fashion Show
Read the article by Hope Wilkos West Palm Beach Fashion Examiner
You Tube Interview with Pery Unawawach Fashion Blogger
Article by Gitana Syling Style Chat  by Gitana Syling
E
EVENTS
Sharon Tatem has been written up in the Palm Beach Post for her many mural donations to community organizations for children.
Sharon Tatem created a mural for the Festival of Trees Event sponsored by The United Cerebral Palsy Foundation at the Nassau Coliseum in New York.
Sharon created a 30-foot mural for the children. 500 children participated in completion of the art mural "I Love Long Island" for the event.
Sharon Tatem also donated a limited edition fine art print on canvas to raise money for United Cerebral Palsy at this event.
Sharon Tatem completed another Mural Event at Cityplace Feast of Little Italy sponsored by Event Co and Sorrento Cheese.
300 children with the theme of Cityplace completed the 30-foot mural.
Sharon Tatem created an 18 feet long interactive mural for The Northern Palm Beach Chamber of Commerce sponsored 2001 at Arti-Gras.
Over 200 children help to create the mural and the event was a great success.
Sharon Tatem donated a painting to the Northern Palm Beach Chamber of Commerce in 2001 for the victims of 911 and raised $1200.
Sharon Tatem donated a 12-foot underwater mural to The Children's Place at Home Safe in West Palm Beach in 2001
a shelter for children with parents with Aids and addiction problems.
Sharon Tatem in 2001 donated a Florida Scene Mural to the West Palm Beach organization Junior Achievement. The organization is a business teaching foundation to help children understand the workings of business.
Sharon Tatem donated a Nature scene of Florida for The Blinks Forest Elementary School in Wellington Florida also sponsored by Howney and Associates Architects of West Palm Beach
Sharon Tatem's art has been on the cover of Dans Papers of the Hamptons three times and she has been named artist of the Hamptons in 1998.
Sharon Tatem's commissioned portrait of Mayor Menino of Boston is on permanent exhibit at the New York Soup Exchange in Boston Massachusetts.
G
GALLERY SHOWS:
ONE POSH PLACE Antique Gallery
Jupiter, Florida
GALLERY FRAMERS
Boca Raton, Florida
IMPORTS EXTRAORDINAIRE
Palm Beach Gardens, Florida
SOUNDVIEW GALLERY
Port Jefferson, NY 1999
PROFILE ART GALLERY
Jupiter, Florida 2000
ROSEN FINE ART GALLERY
Westhampton, NY 1998
TEQUESTA FINE ART GALLERY
Tequesta, Florida 2001
MISTINGUETTE FINE ART
Great Neck, NY 1996
THE CHELSEA ART CENTER
East Norwich, NY 1998 Peacock Exhibition
CAFÉ PAZZO
One-woman show 1996 Port Washington, NY
THE RED PIANO
Hilton Head, South Carolina 1995
AJ GRAPHICS
One Woman Show Port Washington NY 1992
GALLERY NORTH
Setauket NY 1990
TOWNE GALLERY
Hewlett NY 1990
SEACLIFF PHOTOGRAPHIC GALLERY
Seacliff, NY 1987
SEACLIFF NAIF ET PRIMITIF
Soho NY 1986
D
DONATIONS:
2015 Silk Scarf Donation Florida Fashion Chamber of Commerce
MARTIN COUNTY RED CROSS
Fine Art Painting Donation
Christmas Ball 2008
NASSAU COLLISEUM
The United Cerebral Palsy Foundation,
FESTIVAL OF TREES 2002 Donation
30 foot interactive mural for children
BINKS FOREST ELEMENTARY SCHOOL
Permanent exhibition Wellington,
Florida Donation
JUNIOR ACHIEVEMENT
Permanent exhibition West Palm Beach,
Florida Donation
GARDENS ART
July 2002 Palm Beach Gardens, Florida
ARTIGRAS 2002
Community Art Mural Sponsor:
The Northern Palm Beaches Chamber of Commerce Donation
20 foot interactive mural for children
CHILDREN'S PLACE AT HOME SAFE
Underwater Wall Mural 2002 Donation
THE ESPERANTE BULIDING
West Palm Beach, Florida Lobby Art
Donation American Flag Painting for 911 Victims
Permanent Exhibit
INTER-NATION FESTIVAL
Nassau Community College
GREAT NECK VILLAGE HALL
One Woman Show
Great Neck NY
ART EXPO
NY, NY 1991
P
PUBLICATIONS:
PALM BEACH POST Featured Artist Full Page February 2002
DAN'S PAPERS OF THE HAMPTONS 50th Anniversary Issue
DANS PAPERS OF THE HAMPTONS Commerative Cover Collectors Edition 2009
DAN'S PAPERS OF THE HAMPTONS Cover Art 2006 August Hamptons, NY
DAN'S PAPERS OF THE HAMPTONS Cover Art 1998 Memorial Day Hamptons, NY
DAN'S PAPERS OF THE HAMPTONS Chosen Artist of the Hamptons Cover Art Easter 1998 Hamptons NY
E
EDUCATION:
Syracuse University,
College of Visual and Performing Arts
Bachelor of Fine Arts 1982 Fashion Major
Fashion Institute of Technology NY, NY
School of Visual Arts NY, NY 1983
PBSRE Real Estate License Realtor Florida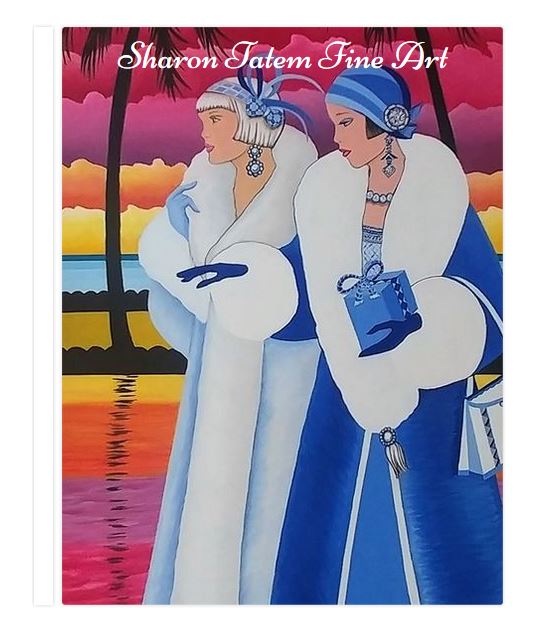 The Palm Beach Collection of Art is the 2019 Fine Art Book. The book is filled with the story of the painting and the lovely images. This book is a wonderful gift for any art lover.
Copyright ©
Sharon Tatem LLC
2019 All rights reserved.